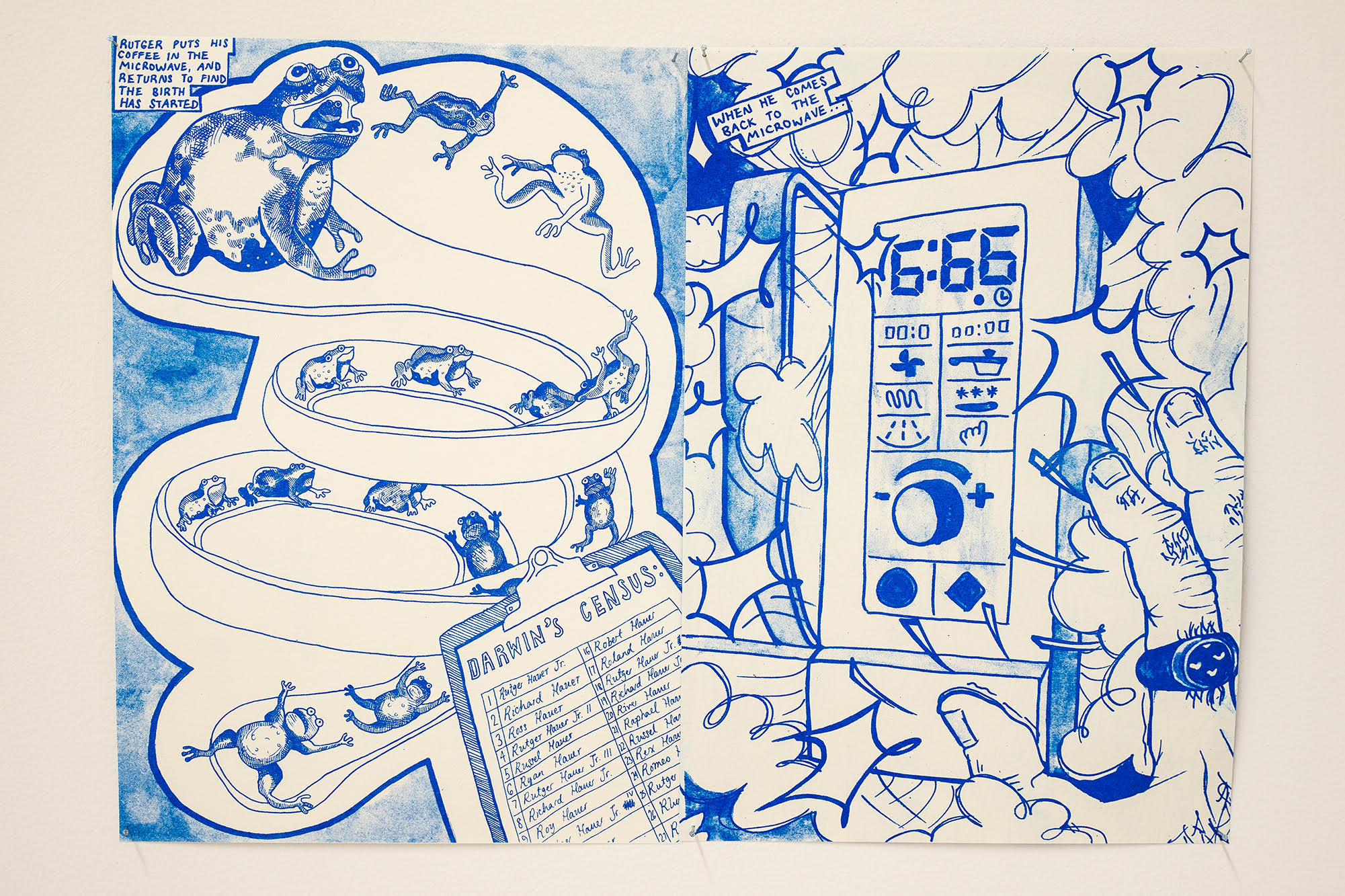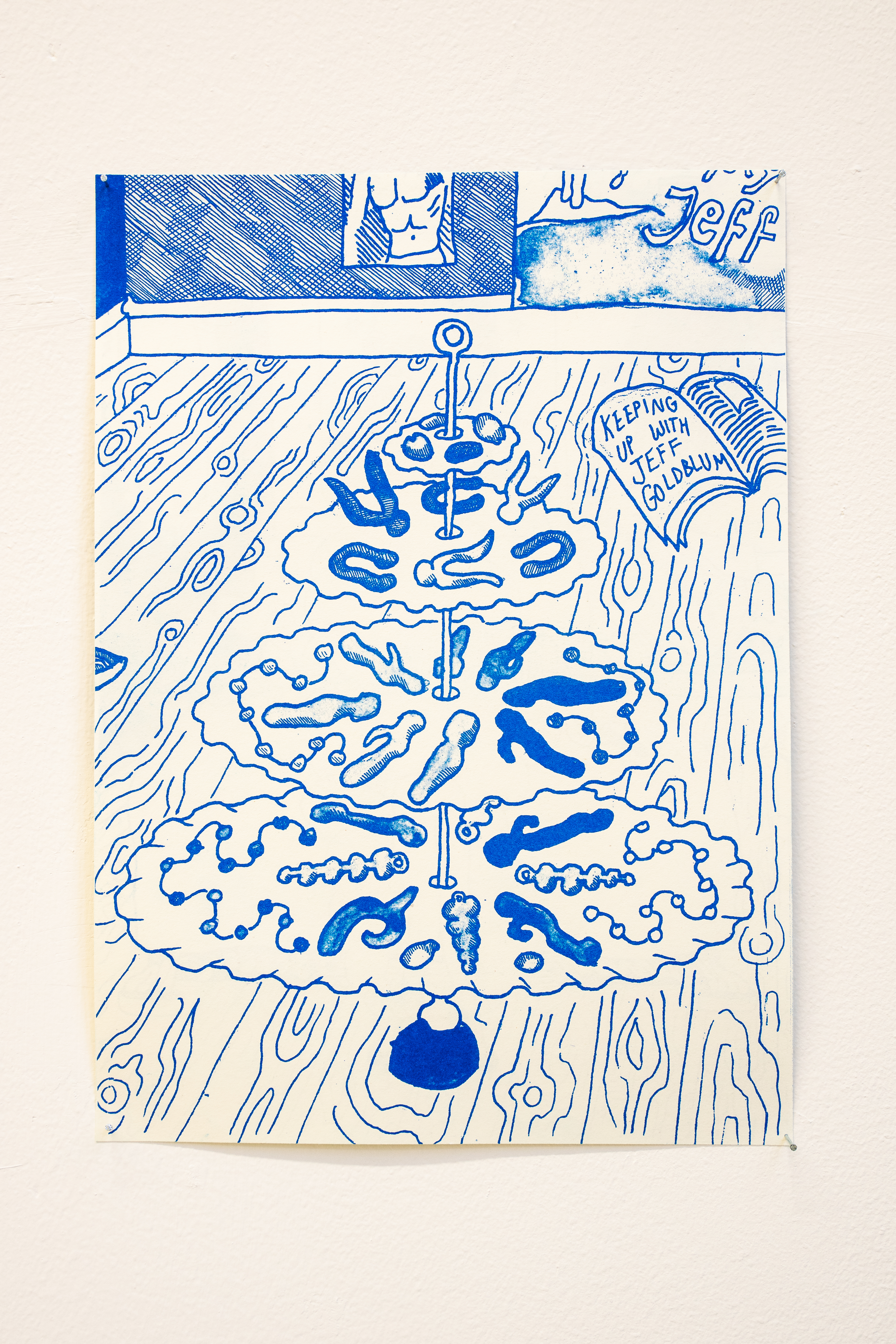 Written after a 10-day residency at Kunsthuis SYB in the Dutch town of Beetsterzwaag, 'PLASMA SPRING' is the first comic by Daphne Simons and Josie Perry. Here we meet Pauline, savvy entrepreneur and ex-communicated scientist, who helps Rutger build a time machine to end his one-sided thespian battle with Jeff Goldblum.

Self published, riso print, A4, 36 pages.
Available at Good Press (Glasgow), or contact us for a free PDF copy.

Photographs by Steven Maybury (exhibition version of the comic at Piet Zwart Institute Open Studios 2020).




AFTER A CHANCE ENCOUNTER OUTSIDE THE LOCAL SLAUGHTERHOUSE, DUTCH ICON RUTGER HAUER IS GIVEN THE OPPORTUNITY TO SETTLE A DEMON THAT HAS HAUNTED HIS CAREER. WHAT FOLLOWS IS A WILD RIDE FEATURING AN OUT-OF-CONTROL BREEDING PROGRAM AND DIY TIME TRAVEL. BUT WILL RUTGER'S EGO SURVIVE? (PROBABLY).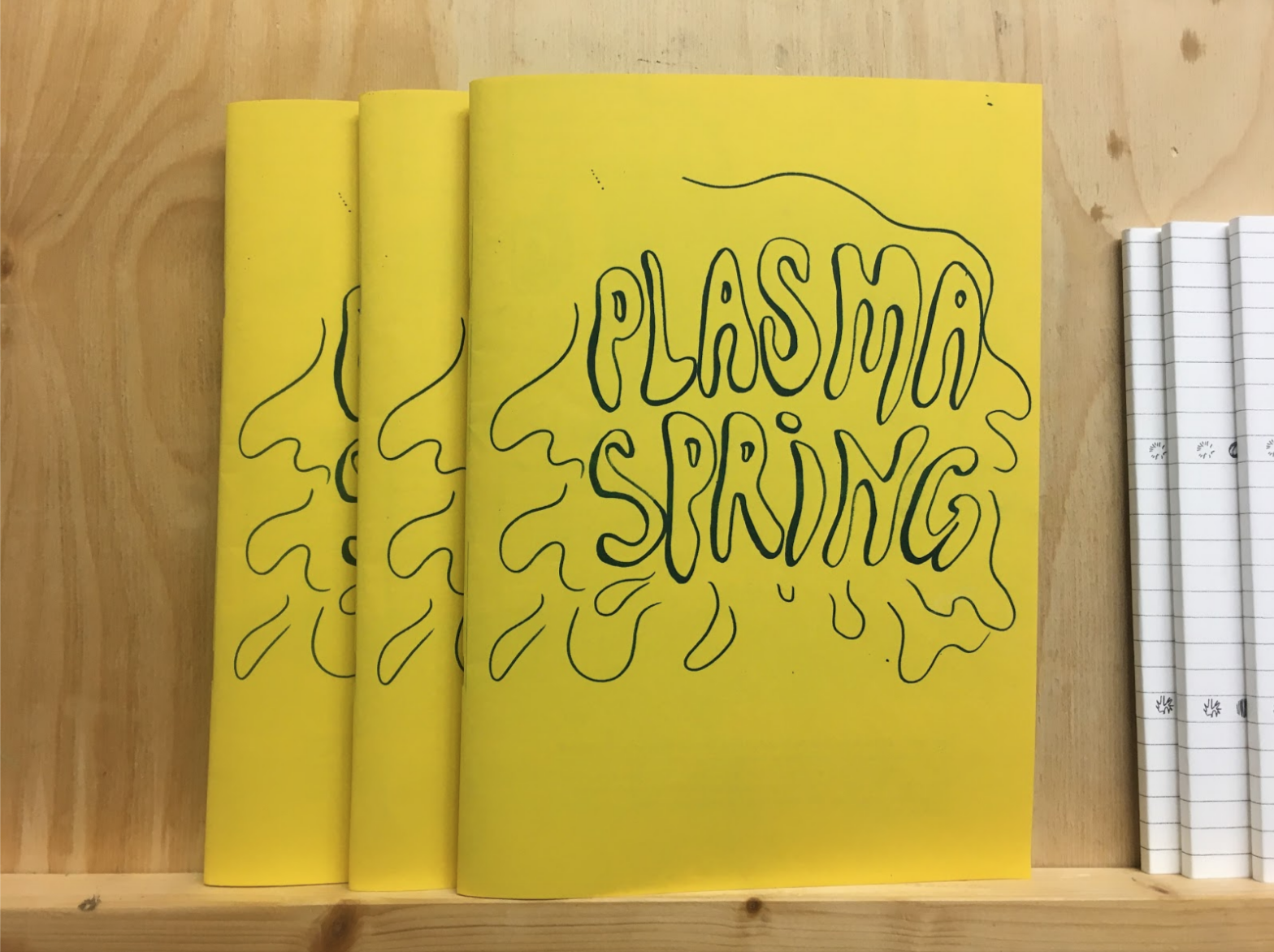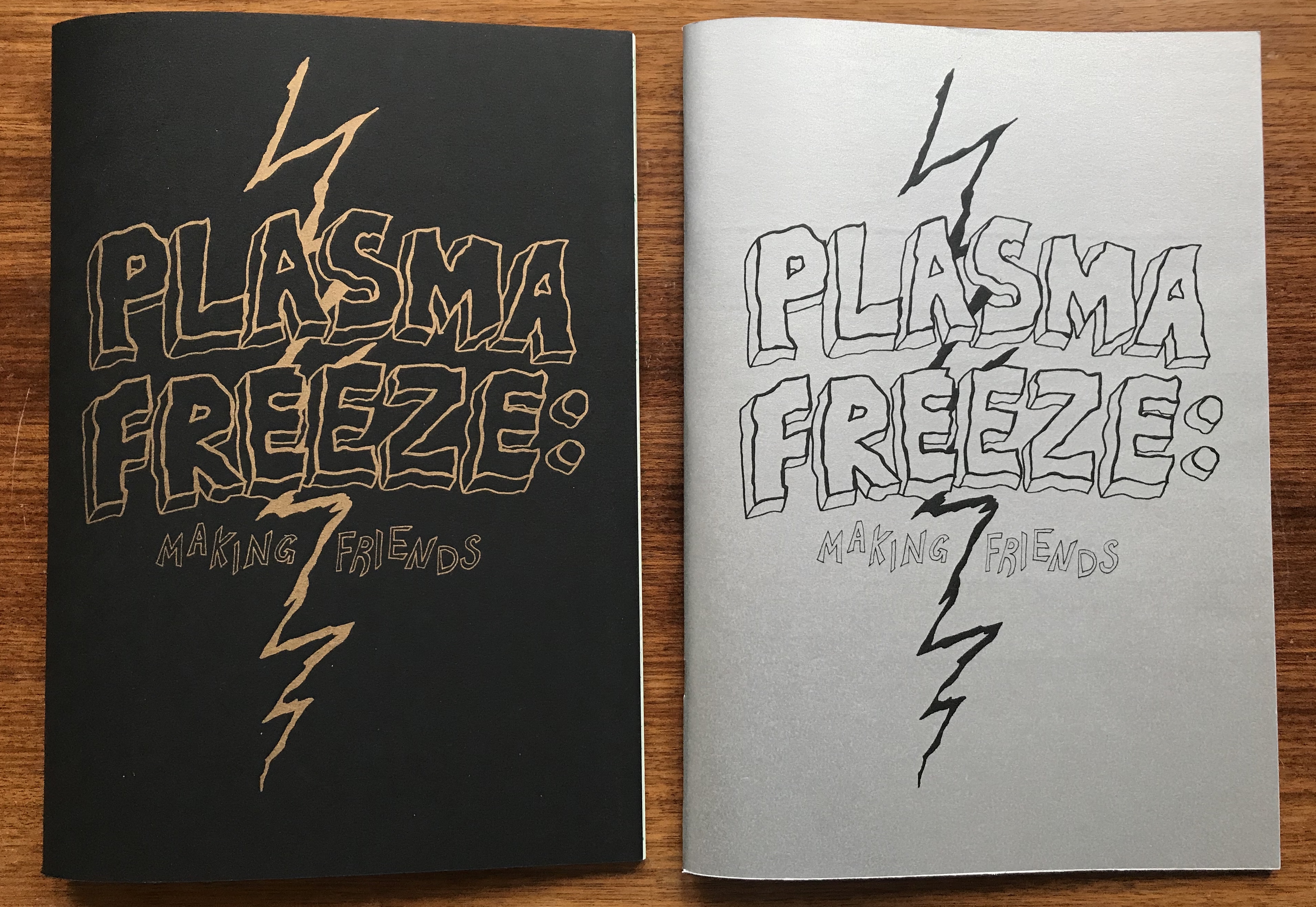 'PLASMA FREEZE: Making Friends' (2020)





Set in a Genevan record store in 2004, 'PLASMA FREEZE: Making Friends' is a fast-paced trip through hi-fi and sci-fi , featuring a teenage sweat-extraction plot, a rebellious worker trapped by a hair-care regime, and a food-themed cast of tribute artists, led by Celine Dijon. A prequel to the comic 'PLASMA SPRING' (2019), it offers a glimpse into the past of the mysterious ambiv-illain Pauline, before she winds up in the sleepy town of Beetsterzwaag to stir things up for Dutch film icon Rutger Hauer. 'PLASMA FREEZE: Making Friends' is accompanied by a series of music videos made by the fictional tribute artists..

Self published, riso print, A4, 32 pages with removable insert.
Editions with black and gold / silver cover.

Available at LIFE (Rotterdam), Print Room (Rotterdam) and Good Press (Glasgow).





WHEN A TEENAGE SURF GOTH BAND IS OFFERED LOADS OF FREE TECH IN A RECORD STORE, THEY DON'T QUESTION THE MOTIVES OF THEIR GENEROUS BENEFACTOR PAULINE. BUT SOON THINGS START TO HEAT UP... LITERALLY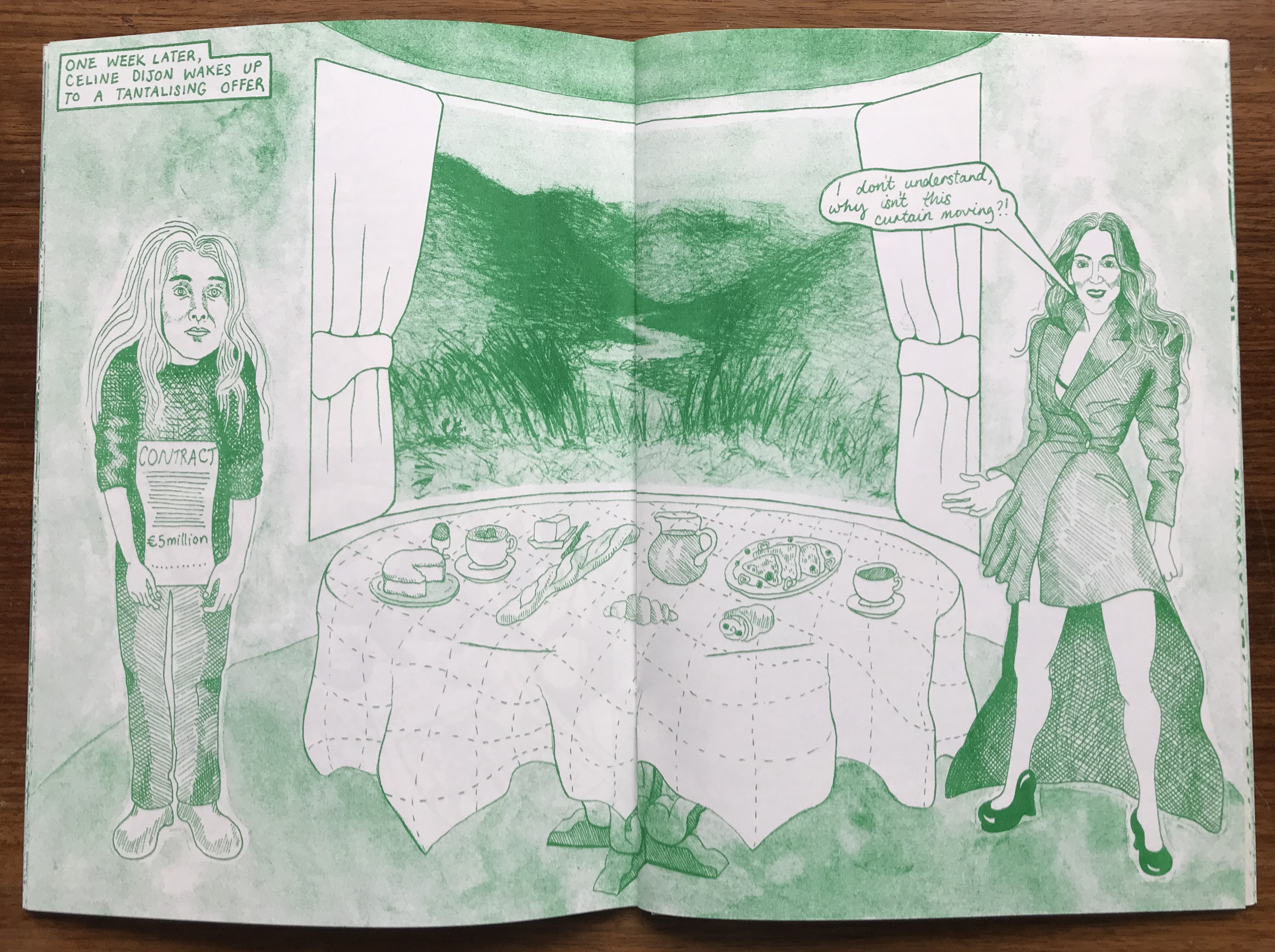 https://www.daphnesimons.com/
https://www.ashopcalled.life
http://goodpress.co.uk
home
Prop from 'PLASMA FREEZE: A Musical Playlist' – a spin-off to our comic featuring the fictional tribute artists from the story. The spin-off takes form as a series of music videos, which were screened by WET Film (Rotterdam) in December 2020. Thanks to our collaborators:

CAST:
Dave Shaw as Whipney Houston
Calypso Hetherington as Elvis Parsley
Barnaby Wynter as Shank Shinatra
Petter D. Persson as Stew Reed and Man With The Golden Hair
Daphne Simons as John Lemon
Lili Huston-Herterich as Celine Dijon
Li-Ming Hu as Jimi Hentwix
Josie Perry as Patsy Brine
Sol & Angel as David Doughie
Petter D. Persson, Daphne Simons, Josie Perry and Jamie Kane as NUCLEAR PUPPIES


Musical Spin-off
'PLASMA SPRING' (2019)
for more info on Daphne's work: